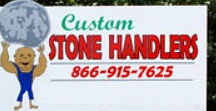 CSH, Inc is a multi-state stone producer and distributor based out of Columbia, Tn with locations in middle and east Tennessee, Georgia, Alabama, and Indiana.
CSH supplies over 600 distributors and suppliers with quality stone products. We are one of the largest river stone pallet producers in the U.S. We are also one of the leading bulk producers of oversize river stone and cobble east of the Mississippi.
Along with river stone, we produce and distribute over 100 building, landscape, and other bulk products. Our goal is to provide quality products, service, and partnerships to ensure our customer's success.
We firmly believe that the measure of any person or company is how they treat other people and customers. Our rule is simple:
"To treat folks the way we would want to be treated"
Matthew 7:12